Broadcom MegaRAID SAS 9341-4i

Improve data performance and protection cost effectively for small business and server storage applications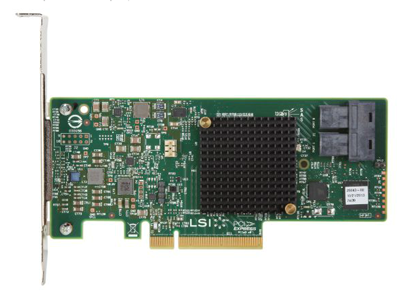 Sorry, this product is no longer available, please contact us for a replacement.
Click Here to Jump to Pricing!
Overview:
MegaRAID SATA+SAS Entry Product Line
MegaRAID SATA+SAS entry controller cards allow small to medium business (SMB) owners and gaming enthusiasts to enjoy the latest RAID technology at affordable prices with low power consumption. This product line delivers trusted MegaRAID reliability with minimal maintenance effort. MegaRAID entry controller cards offer users a straight-forward solution that includes essential RAID levels and uncomplicated configuration options.
In addition, they are able to connect to combinations of SATA and SAS hard disk drives and solid state drives, allowing for storage configurations that optimize cost, performance and robust data protection.
Enterprise Ready
Along with an extensive list of enterprise RAID capabilities, the 9341 series now offers advanced drive diagnostic technologies. In the event of a physical drive failure, the drive is placed in a shielded state and the MegaRAID controller starts drive diagnostics to determine if the drive is indeed failed or can be restored. This saves customers time, money and lost compute time associated with transient drive failures and unnecessary drive returns.
Simple Migration to MegaRAID Enterprise Products
A unique feature of the MegaRAID SATA+SAS entry line is the ability to migrate from these simple, yet powerful RAID 5 controllers to the more full-featured MegaRAID product lines. Users can simply plug in a new controller to recognize and import the existing array without requiring any reconfiguration. Plus, a single management client provides a consistent user interface to manage any MegaRAID SATA, SAS or SSD array.
12Gb/s SAS and PCI 3.0 Performance Advantages
12Gb/s SAS is designed for backward compatibility with 6Gb/s and 3Gb/s SAS and SATA hard drives. Regardless of the drive speed, 12Gb/s MegaRAID controllers will deliver significant performance improvements in both read and write applications compared to their predecessors.
Features and Benefits:
Key Advantages
High performance with 12Gb/s data transfer rates
PCI Express® 3.0 host interface drives superior system performance
Delivers robust, yet simple RAID functionality
Flexible SATA+SAS array architecture optimizes cost
Complete kit package includes necessary cables and brackets
Includes JBOD Mode support Applications
Internal storage configurations
1U/2U rack servers
File, Web, database and email servers
High-performance workstations
Typical Uses
Direct-attach, internal SAS or SATA hard disk drives (HDDs) and solid state drives (SSDs)
High volume, "warm data" access
Key Features
Eight internal 12Gb/s SATA+SAS ports
x8 PCI Express 3.0 host interface
Two x4 SFF-8643 mini-SAS HD internal connectors
LSISAS3008 PowerPC 476 controller @ 1.2GHz
RAID 0, 1, 5, 10, 50 and JBOD mode
Low-profile form factor
Supports up to 64 devices in JBOD mode
Up to 32 physical devices in RAID mode
Powerful device monitoring and maintenance capabilities
Specifications:
MegaRAID SAS 9341-8i & 9341-4i Specifications
Solution Provided
Low-cost, green SATA+SAS RAID solution for high-density servers and workstations with the flexibility to use both SATA and SAS hard drives and solid state drives
Physical Dimensions
9341-8i & 9341-4i: 2.6" x 6.0"
Connectors
9341-8i: Two, x4, SFF-8643 mini-SAS HD horizontal connector placement
9341-4i: One, x4, SFF-8643 mini-SAS HD horizontal connector placement
Max Number of Physical Devices
Non-RAID (JBOD Mode): 64
RAID 0: 32 per volume
RAID 1: 2 per volume plus hot spare
RAID 5: 32 per volume
RAID 10: 32 per volume
RAID 50: 32 per volume
Host Bus Type
8-lane, 5 GT/s PCI Express 3.0 Compliant
Data Transfer Rates
Up to 12Gb/s per port
Key RAID Data Protection Features

RAID levels 0, 1, 5, 10, 50 and JBOD mode
Online Capacity Expansion (OCE)
Online RAID Level Migration (RLM)
Auto resume after loss of system power during array rebuild or RLM
Single controller multipathing (Load balancing)
Drive hot plug support
Drive roaming
Selectable logical drive as boot drive
Virtual Disk (VD) Consistency Check
Fast initialization for quick array setup
Staggered disk spin up
Hot Spare support (up to 8)

Global, dedicated (copy back), enclosure affinity and emergency SATA support

Automatic rebuild support

SafeStore Encryption Services for SED HDDs
Shielded state drive diagnostic technology
Patrol Read media scan and repair
Online HDD firmware update
Error recovery support
SAS TCQ support
SATA NCQ support
Support for native 4K HDDs
Non disk device support
>2TB logical drive support
Soft bad block management
DDF-compliant Configuration on Disk
Foreign Configuration Import
S.M.A.R.T. support
SES (inband) & SGPIO (sideband) management

MegaRAID Management Suite

MegaRAID Storage Manager™
– Now with single login for domain admin
StorCLI (command-line interface)

CTRL-R (BIOS configuration utility)
HII (UEFI Human Interface Infrastructure)

Environments
Operating
0°C to 70°C
5 to 90% Non-condensing
Storage
-45°C to 105°C
5 to 90% Non-condensing
PCI Card Type
3.3V add-in Card
PCI Voltage
+12V +/-8%
PCI Power
13.0 W (normal), 19.04 W (max)
PCI Modes
Bus Master DMA
LED Indicators
Internal
Activity/Fault per x4 port – Heartbeat
MTFB
>2,800,000 hours
Compliances
EMC: Class B-US (CFR 47, P15B); Canada (ICES-003); Japan (V-3/02.04); Europe (EN55022/EN55024); Australia/New Zealand (AS/NZS 3548); Safety: EN60950
Regulatory Certifications
EN55022, EN55024, EN60950, EN 61000-3-2, EN 61000-3-3; FCC Class A, Class B; UL1950; UL; CSA C22.2; VCCI; RRL for MIC; BSMI; C-tick
OS Support
Extensive support includes Microsoft® Windows® Server 2012/Vista/2008/Server 2003, Linux®, Solaris™ (x86), FreeBSD®, VMware® and more. Visit the download center for the most complete list of supported operating systems: www.lsi.com/support
Brackets
Full Height and Low-Profile
Warranty
3 years, advanced replacement option; Free technical support at www.lsi.com/support
Pricing Notes:
Pricing and product availability subject to change without notice.