Broadcom MegaRAID SAS 9361-8i

Ensure data protection for performance-hungry applications in mid-range server storage environments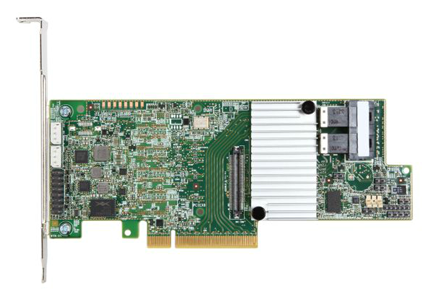 Broadcom Products
Broadcom RAID Controller Cards
LSI MEGARAID SAS 9361-8I 6GB/S SAS 12GB/S LOW PROFILE - 12GBIT
#05-25420-17
List Price:
$1,319.00
Our Price: $1,145.00
Click Here to Jump to Pricing!
Overview:
Unmatched RAID Performance for Next-Generation Servers and Storage
The explosive growth of data in cloud and enterprise datacenters is driving the need for a higher performance storage interface to speed the ability of critical applications to access data. Broadcom fi rst-to-market 12Gb/s SAS solutions are designed to deliver the performance and data protection capabilities required for the most demanding next-generation server and storage platforms. Off ering up to double the data transfer rate of 6Gb/s SAS solutions, 12Gb/s SAS allows the SAS infrastructure to deliver bandwidth that can fully utilize that of PCI Express® 3.0 with a single controller card. The MegaRAID SAS 9361-8i, with four internal ports, delivers two 1.2GHz PowerPC® processor cores and a 72-bit DDRIII interface that drives 1GB cache memory. Powered by the LSI SAS 3108 dual-core ROC, the 9361-8i controller includes the latest PCI Express 3.0 and 12Gb/s SAS technology and helps users to support increased scaling of hard disk drives (HDDs) and maximize the performance benefi ts of solid state drives (SSDs).
Enterprise Data Protection
Standard support for the most popular RAID levels and accessories, including RAID 5, RAID 6, and CacheVault® Flash cache protection module, further strengthen the data protection capabilities of the MegaRAID SAS 9361-8i. A new enterprise feature employed by the 12Gb/s MegaRAID SAS controllers is advanced drive diagnostic technology. In the event of a physical drive failure, the drive is placed in a shielded state and the MegaRAID controller starts drive diagnostics to determine if the drive is indeed failed or can be restored. This saves customers time, money and lost compute time associated with transient drive failures and unnecessary drive returns.
Support for Advanced Software Options
The family of 12Gb/s MegaRAID controllers are designed to support Broadcom advanced software options that provide system integrators and VARs with enhanced performance and data protection capabilities. These software options help enable end users to address key business challenges while helping to deliver a higher return on their IT investments. MegaRAID CacheCade™ Pro 2.0 software (optional) and MegaRAID Fast Path software (included) boost transactional I/O performance of solid state disk confi gurations, while SafeStore™ software enables enhanced data protection and security when used with encryption capable devices.
Features and Benefits:
Key Features
High performance 12Gb/s data transfer rates
Eight internal 12Gb/s SATA+SAS ports
Two mini-SAS SFF8643 internal connectors (horizontal mount)
LSI SAS 3108: 1.2GHz PowerPC® 476 dual core 12Gb/s ROC
PCI Express 3.0 host interface
1GB DDRIII cache memory
RAID levels 0, 1, 5, 6, 10, 50, and 60
Support for CacheVault® flash cache protection
Key Advantages
12Gb/s solutions accelerate performance for next-generation datacenters, web and cloud
Delivers enterprise-class data protection and security
Preserves investment in 6Gb/s and 3Gb/s drives
Support for Advanced Software options
Connect up to 128 3Gb/s, 6Gb/s, or 12Gb/s SATA and SAS devices
Specifications:
MegaRAID SAS 9361-8i Specifications
Solution Provided
Eight-port internal 12Gb dual core ROC-based SAS solution for data center, cloud, and performance-hungry applications using up to 128 SAS or SATA devices
Physical Dimensions
MD2 low profile (6.6" X 2.536")
Connectors
Two mini-SAS SFF8643 internal connectors (horizontal mount)
Device Support
Up to 128 SAS and/or SATA devices
Host Bus Type
x8 lane PCI Express 3.0 compliant
Data Transfer Rates
Up to 12Gb/s per port
I/O Processor / SAS Controller
LSI SAS 3108 dual core RAID on Chip (ROC)
Cache Memory
1GB 1866MHz DDRIII SDRAM
Cache Protection
Optional CacheVault Flash Module (LSICVM02) – Includes CVFM04, CVPM02, mounting clip, and cable
Key RAID Data Protection Features

RAID levels 0, 1, 5, and 6
RAID spans 10, 50, and 60
Online Capacity Expansion (OCE)
Online RAID Level Migration (RLM)
Auto resume after loss of system power during array rebuild or reconstruction (RLM)
Single controller Multipathing
Load Balancing
Configurable stripe size up to 1MB
Fast initialization for quick array setup
Check Consistency for background data integrity
SSD Support with SSD Guard™ technology
Patrol read for media scanning and repairing

64 logical drive support
DDF compliant Configuration on Disk (COD)
S.M.A.R.T support
Global and dedicated Hot Spare with Revertible Hot Spare support

Automatic rebuild
Enclosure affinity
Emergency SATA hot spare for SAS arrays

Enclosure management – SES (inband)

SES (inband)
SGPIO (sideband)

Databolt™ bandwidth optimizer technology support for compatible expander-based enclosures
Shielded state drive diagnostic technology

Operating Temperature
Maximum ambient: Controller Card: 55°C, with optional CacheVault accessory (LSICVM02): 55°C
Operating Voltage
+3.3V, +12V
MTBF (Calculated)
1,343,187 hours
Hardware Warranty
3 years, free 5x8 phone support, advanced replacement option
Regulatory Certifications
EN55022, EN55024, EN60950, EN 61000-3-2, EN 61000-3-3; FCC Class A, Class B; UL1950; UL; CSA C22.2; VCCI; RRL for MIC; BSMI; C-tick
MegaRAID Management Suite

MegaRAID Storage Manager
StorCLI (command-line interface)

CTRL-R (BIOS configuration utility)
HII (UEFI Human Interface Infrastructure)

SSD Optimization

MegaRAID CacheCade Pro 2.0 Software leverages SSDs in front of HDD volumes to create high-capacity, highperformance controller cache pools (Optional Upgrade)
MegaRAID Fast Path Software provides high-performance I/O acceleration for SSD arrays connected to 6Gb/s MegaRAID SATA+SAS controllers (Included)

Compliances
EMC: Class B-US (CFR 47, P15B); Canada (ICES-003); Japan (V-3/02.04); Europe (EN55022/EN55024); Australia/New Zealand (AS/NZS 3548); Safety: EN60950
OS Support
Extensive support includes Microsoft® Windows® Server 2012/8 & 7/2008/Vista/2003, Linux®, Solaris™ (x86), FreeBSD®, VMware® and more.
Pricing Notes:
Pricing and product availability subject to change without notice.
Broadcom Products
Broadcom RAID Controller Cards
LSI MEGARAID SAS 9361-8I 6GB/S SAS 12GB/S LOW PROFILE - 12GBIT
#05-25420-17
List Price:
$1,319.00
Our Price: $1,145.00