Broadcom MegaRAID SAS 9280-8e

External JBOD storage with advanced data protection capabilities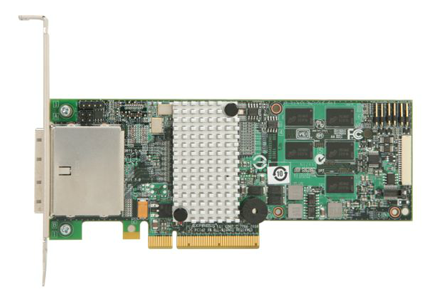 Sorry, this product is no longer available, please contact us for a replacement.
Overview:
Next-Generation SATA+SAS RAID for External Enclosures
Today's newest external enclosure designs are based on architectures that support both SATA and SAS drives. The MegaRAID SAS 9280-8e and 9280DE-8e, with eight external SATA+SAS ports, are ideal for configuring these external enclosures with your choice of high-performance SAS hard drives, high-capacity SATA hard drives or power-saving solid state drives (SSDs). With data transfer rates of up to 6Gb/s per port, the MegaRAID SAS 9280-8e and 9280DE-8e bring users new features and improved performance, while continuing to support all the features of the previous 3Gb/s SATA+SAS generation. These feature line controllers employ the latest in RAID-on- Chip technology, comply with the PCI Express 2.0 specification and provide additional data security using SafeStore encryption services.
6Gb/s SAS Performance Advantage
6Gb/s SAS is designed for backward compatibility with 3Gb/s SAS as well as with 6Gb/s and 3Gb/s SATA hard drives. Regardless of the drive speed, 6Gb/s MegaRAID controllers will deliver significant performance improvements in both read and write applications as compared to their 3Gb/s predecessors. Other new features to the 6Gb/s MegaRAID SATA+SAS controllers include greater signal integrity using Decision Feedback Equalization, support for more sophisticated SAS topologies using Expander Self-discovery/ Self-configuration, and additional safeguards to enhance data protection.
SafeStore Encryption Services
Broadcom is pleased to offer SafeStore encryption services, which offer instant secure erase and local key management* for self-encrypting drives (SEDs). This technology represents a significant step forward in securing a drive's data from any unauthorized access or modification resulting from theft, loss, or repurposing of drives. Instant secure erase cryptographically erases an SED, whether it is 73GB or 1TB, in less than a second. This allows for secure drive returns or reuse. SafeStore local key management provides the necessary management and protection of SEDs using a simple pass phrase, security key identifier, and security key file, which can be set and applied to all SEDs assigned to a MegaRAID adapter. This removes the complexity of managing each SED's unique encryption key, and essentially relieves the administrator from most of the daily tasks of securing data.
Intuitive RAID Management Utility
The MegaRAID Management Suite™ provides the essential software tools to efficiently manage MegaRAID products, whether deployed in an enterprise or small business. Broadcom offers a collection of applications and tools including a pre-boot setup utility and a full spectrum of online RAID management utilities. This suite of applications allow administrators to adjust SAS topology views from the system host, controller and disk enclosure down to the logical and physical drive level. Extending to enterprise deployments, these tools scale to easily configure, monitor and manage RAID volumes locally or over the LAN network.
Features and Benefits:
Key Features
Eight external 6Gb/s SATA+SAS ports
Two Mini-SAS external connectors (SFF-8088)
LSI SAS 2108 6Gb/s RAID-on-Chip
–800MHz PowerPC
512MB 800MHz DDRII cache memory
Optional battery backup module
RAID Levels 0, 1, 5 and 6
RAID Spans 10, 50 and 60
Key Advantages
Superior Performance

Maximum Reads: 2,875MB/s
Maximum Writes: 1,800MB/s

PCI Express® 2.0 provides faster signaling for high bandwidth applications
Support for 3Gb/s and 6Gb/s SATA and SAS hard drives and SSDs
SafeStore™ Encryption Services for more secure data protection
Typical Applications
Video-On-Demand
Video-Surveillance
Video Creation + Editing
Medical Imaging
High-Performance Computing
Digital Content Archive and VTL
Storage Appliance
File, Web, Database, and Email Servers
Specifications:
MegaRAID SAS 9280-8e Specifications
Solution Provided
Eight-port external SATA+SAS RAID solution for servers requiring the scalability and flexibility to use up to 240 SATA or SAS hard drives or SSDs in external storage environments.
Physical Dimensions
MD2 Low profile (6.6" X 2.536")
Connectors
Two Mini-SAS SFF-8088 external connectors
Device Support
Up to 240 SATA and/or SAS hard drives and SSDs
Host Bus Type
x8 lane PCI Express 2.0 Compliant
Data Transfer Rates
Up to 6Gb/s per port
I/O Processor/SAS Controller
LSI SAS 2108 RAID-on-Chip (ROC)
Cache Memory
512MB 800MHz DDR II SDRAM
Battery Backup Unit
LSIiBBU07, an intelligent battery backup module option that directly connects to the adapter
Key RAID Data Protection Features

RAID levels 0, 1, 5, and 6
RAID spans 10, 50 and 60
Online Capacity Expansion (OCE)
Online RAID Level Migration (RLM)
Auto resume after loss of system power during array rebuild or reconstruction (RLM)
Single controller Multipathing (failover)
Load Balancing
Configurable stripe size up to 1MB
Fast initialization for quick array setup
Check Consistency for background data integrity
SafeStore Encryption Services
–Instant Secure Erase
–Local Key Management

SSD Support with SSD Guard
Patrol read for media scanning and repairing
64 logical drive support
DDF compliant Configuration on Disk (COD)
S.M.A.R.T support
Global and dedicated Hot Spare with Revertible Hot Spare support

Automatic rebuild
Enclosure affinity
Emergency SATA hot spare for SAS arrays

Enclosure management

SES (inband)
SGPIO (sideband)

Operating Temperature
Maximum ambient: 60°C (44.5°C w/iBBU)
Operating Voltage
+3.3V
Warranty
3 years, free advanced technical support, advanced replacement option
Regulatory Certifications
EN55022, EN55024, EN60950, EN 61000-3-2, EN 61000-3-3; FCC Class A, Class B; UL1950; UL; CSA C22.2; VCCI; RRL for MIC; BSMI; C-tick
RAID Management
MegaRAID Management Suite

MegaRAID Storage Manager™
MegaCLI (command-line interface)
WebBIOS

OS Support
Extensive support includes Microsoft® Windows® Vista/2008/Server 2003, Linux® , Solaris™ (x86), FreeBSD® , VMware® and more.